About
Name: Kylie Kwong
Heritage: Chinese
Position: Chef, author, television presenter & restaurateur
Company: Lucky Kwong
"
"I am very proud to be part of what is possibly the largest Chinese family tree in Australia's immigration history. I am the first daughter of the fifth son, of the first son, of the third wife of Kwong Sue Due - which makes me 29th generation Kwong and third generation Australian."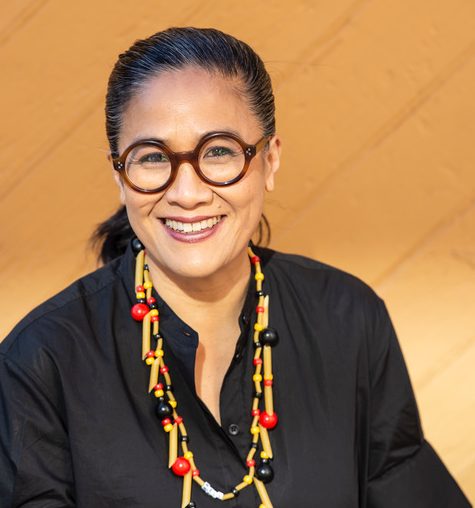 Tell us about your cultural heritage
My surname 'Kwong' originated in 960 A.D. in the first year of the Sung Dynasty, and one of my relatives has traced our family tree back to the twelfth century.

My great-grandfather Kwong Sue Duk first came to Australia in 1875, during the Gold Rush, in search of new opportunities. He held four gold-mining leases and was also a practitioner of Traditional Chinese Medicine. He travelled between China and Australia many times, acquiring 4 wives and producing 24 children – including my dad's dad!

Kwong Sue Duk continued with his herbal medicine practice from Townsville, in northern Queensland, until he died at the age of 76 on the 17th February 1929.

His descendants now number over 1000, spanning 5 generations and 11 countries.

I am very proud to be a part of what is possibly the largest Chinese family tree in Australia's immigration history. I am the first daughter of the fifth son, of the first son, of the third wife of Kwong Sue Duk – which makes me 29th-generation Kwong and third-generation Australian.

When did you first start cooking?
My mum began teaching my brothers and I how to cook from the tender age of 5. She passed down her love and passion for food, shopping at fresh food markets, preparing, cooking and sharing food with others, to the three of us. I went on to make a career out of it and have never looked back. As Mum as always taught me, food connects people, food makes people happy.
Your restaurant Lucky Kwong has a big emphasis on sustainability, why is this so important to you?
For me, being a chef and restaurateur provides a great platform and opportunity to help drive positive social change within the community. Sustainability on all levels is essential to Lucky Kwong because it allows my staff and I to offer the very best experience to our customers and greater community each and every day.

I am a firm believer that sustainably grown and harvested produce is not only better for people and planet, but also, literally tastes better. Lucky Kwong loves sharing the stories of all of our committed food and drink producers. As my Mum has always said, 'We cooks can only be as good as the produce we are able to put on the plate.'

Personal sustainability is essential. For me, Lucky Kwong with its user-friendly Monday – Friday lunchtime trading hours, as opposed to my former restaurant life in which I worked nights and weekends, allows me a holistic and far more sustainable work-life balance. I am able to be more innovative and make sound business decisions because I now have more energy and much more space in my mind.

What are some ideas for home cooks who would like to practice more sustainable cooking?
Create your own vegetable garden from which you can harvest daily – delighting in the simple pleasure and pure joy of growing your own food and harvesting only that which you need for each meal. If this is not possible, then perhaps connect into a local community garden in your neighbourhood, or source your produce at the local farmers market – of which there are so many.

I also believe in quality not quantity, so source several very good quality sustainably grown ingredients rather than trying to offer multiple conventionally produced ingredients in one meal.

For example: 'Steamed locally caught fish fillet with ginger and shallots, steamed jasmine rice, stir-fried bok choy' or 'Roasted locally reared chicken with roasted local carrots and potatoes + green salad leaves' or 'Stir-fried locally grown Asian greens with local zucchini, firm tofu and ginger'. With this philosophy every meal you make and enjoy will be absolutely delicious and memorable, rather than just fill for your stomach. Farmers Market are key to this philosophy, I have a rule which is to shop first buying only what is in-season, then create the menu from this. When we buy seasonally the produce not only tastes and looks great because it is 'ripe', but the price is highly accessible because there is an abundance of the specific ingredient.

What is your favourite East meets West meal or taste pairing?
I have many favourite taste pairings including the classic Cantonese; 'ginger and shallot' and 'black bean and chilli', but I also like to highlight this country's unique native edible bush foods. At Lucky Kwong we offer our 'Australian-Cantonese coleslaw' – which is reminiscent of the light and aromatic Vietnamese-style coleslaws, yet with a distinct Australian element with the addition of native bush mint, Warrigal greens and karkalla, a type of native succulent. It is not only delicious to eat but is also an authentic and meaningful version of what I term, 'Australian-Cantonese' fare. Integrating Australian native plants into our food is Lucky Kwong's way of showing respect, acknowledgement and support for the First Australians. I love how food can be very powerful in conveying important social messages.
Are there any other culture foods you haven't tried to recreate but would like to?
I would love to have more time to explore the delicious culinary culture of Vietnam, I just love Vietnamese food, it is so light, healthy, aromatic, herbaceous – I love the way the Vietnamese cooks generously use herbs as if they are a vegetable, I love the iconic, restorative, comforting pho broths and the stunning seafood dishes, interesting fresh rice noodle salad-style dishes and the piquant dipping sauces.
Is there a particular person or place that has inspired your culinary journey?
In 2010 I went to the Sydney Opera House to hear a presentation given by internationally renowned pioneering Danish chef, Réne Redzepi. Réne's philosophy is to highlight the importance of using native ingredients in cooking, in order to find the truest expression of a certain time, place, history, culture, tradition, emotion, memory, scent, flavour – the overall 'sense' of a country. This was a revelation for me, both creatively and professionally: a major lightbulb moment! From this moment on I have been on a 12 year journey of exploration and discovery with the integration of Australian native ingredients into my Cantonese-style cooking. Redzepi opened me up to a whole new way of seeing things and connected me with a global food community committed to making positive social change.
What is something people may not know about Chinese food/cooking?
Chinese cooking can be as simple as you want it to be, whilst also being totally delicious. Do not be intimidated or feel overwhelmed by the often times, multiple 'steps' within the one recipe. When you actually break the recipe down, you will note that each individual step is simple and highly accessible.
Why is it important to celebrate cultural diversity the workplace?
It is paramount to celebrate cultural diversity within the workplace because the more unique voices, world views and life experience we can bring around the same table, the deeper, richer and more meaningful life becomes.

Like so many, one cannot emphasise enough the extraordinary healing power of food shared across the table – existing emotional, mental and cultural barriers and racial discrimination instantly dissipate as we learn about our colleagues' heritage, cultural customs and rituals, spiritual views and practices, traditions and intergenerational stories. Inevitably such wonderful stories always end up around the family kitchen table with our mothers, grand-mothers and great-grandmothers, a universal point of connection. In sharing and enjoying specific food dishes together we gain a deeper understanding of who people truly are, where they have come from and why they are who they are. Cultural diversity promotes respect, equality, tolerance and inclusion for all.

"
"I am very proud to be part of what is possibly the largest Chinese family tree in Australia's immigration history. I am the first daughter of the fifth son, of the first son, of the third wife of Kwong Sue Due - which makes me 29th generation Kwong and third generation Australian."