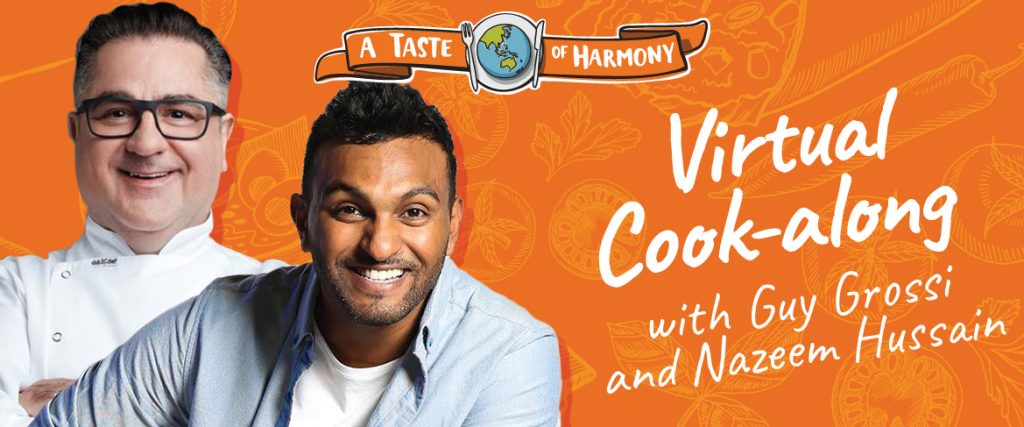 A Taste of Harmony 2021 is now in full swing, and we are excited to reveal the recipe that A Taste of Harmony ambassadors Guy Grossi and Nazeem Hussain will be whipping up on Instagram Live in our upcoming Cook-A-Long event!


On Monday 22 March at 1.00pm, Guy will put Nazeem's culinary skills to the test as he shows us how to make his delicious 'Gnocchi Fungi' for lunch.


You too have the opportunity to cook-a-long with Guy and Nazeem, with the ingredients and equipment required for the recipe below.


So, why not give it a whirl? It's sure to be both delicious and fun, and a great way for teams still working from home to participate in A Taste of Harmony this year!


You and your colleagues can join the Cook-A-Long by following @taseofharmony_au on Instagram, where the event will start as a live video stream at 1:00pm AEDT on Monday.


Buon appetito!



GUY GROSSI'S GNOCCHI FUNGI
Ingredients:
2.4kg Royal Blue potatoes
2 egg yolks
500g plain flour
Salt
Grated nutmeg
150ml extra virgin olive oil
15gm garlic crushed
750gm pine mushrooms, sliced, or any seasonal mushroom
15gm thyme leaves
150ml white wine (optional)
120gm unsalted butter
30gm flat leaf parsley chopped
Salt
Cracked black pepper
50gm pecorino cheese, grated


Equipment:
Kitchen knife
Large saucepan
Oven trays
Wooden spoon
Chopping board
Shallow pan/frying pan
Fine grater/microplane
Potato ricer (if you can't find one, you could try using a food mill or coarse vegetable grater instead)
Gnocchi board/paddle (or a fork will make an okay substitute)


You'll need a stove top, plus an oven (for drying out the potatoes) for this recipe.



COOK-A-LONG DETAILS:
When: 1:00pm – 2:00pm (AEDT), Monday 22 March 2021
How to participate: Follow @tasteofharmony_au on Instagram and click to watch the live video at 1:00pm.