"The staff at Figtree represent the very best that we should all look for in our workplaces," says Fast Ed (A Taste of Harmony ambassador and 'Better Homes and Gardens' chef), "they're keen, committed, and dedicated to the idea that they're learning each and every day."
Figtree Conference Centre is a social enterprise run by Flourish Australia. The purpose of Figtree is to provide training and employment in hospitality to people with a lived experience of mental health issues.
"I had a brilliant time sharing some of my favourite Hungarian recipes to celebrate the cultural diversity of this remarkable workplace," says Fast Ed.
"I even brought out the big guns – my grandmother's poppy seed cake!"
Flourish Australia won a visit from Fast Ed in A Taste of Harmony's early bird competition this year, by registering their event to celebrate cultural diversity.
Employees at Figtree come from all over. Currently, they have team members from countries including Turkey, Mauritius, Indonesia, Greece, Iran, Burma and Scotland. With thousands of people coming to meetings and events at Figtree each year, it's not hard to imagine people visiting from all corners of the globe.
Diversity and inclusion is kept at the front of the Figtree team's minds by being an agenda item at every team meeting, and employees are encouraged to suggest meal ideas from their cultures to become part of the catering menu. Social inclusion is truly at the heart of this organisation.
On the day, Fast Ed prepared a delicious lunch for the Figtree team and shared with them his knowledge from cooking all over the world – including the importance of checking the ingredients of what we eat.
"Everywhere in the world, other than Australia, ice cream is a protected product. To be ice cream it can only contain milk, cream, eggs, sugar and flavouring. Here in Australia you can put anything into ice cream!" He tells the Figtree team (to some objection – "don't ruin my ice cream!" says one employee).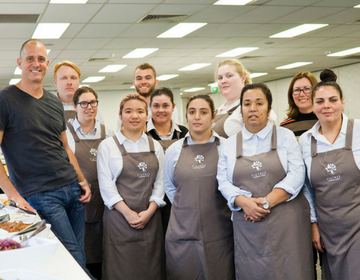 The Figtree team had a great time learning about food, and eating the Hungarian feast Ed prepared for them.
"Ed's passion and love for food is inspiring!  Figtree staff learnt so many helpful kitchen tips and skills while helping Ed to prepare his delicious Hungarian banquet. And we all really enjoyed sitting down together as a team with him to share and enjoy the feast! He was so generous with his time, so friendly and easy to talk with and so humble and gracious. It was a really memorable day for everyone at Figtree Conference Centre," says Sue.
A Taste of Harmony encourages all workplaces to enjoy a meal together and discuss their own cultural diversity. Who knows – by registering your 2019 event, you might be getting a visit from Fast Ed next year!
"It was so amazing," says Fast Ed, "I can't wait for next year's A Taste of Harmony!"
Click here to learn more about A Taste of Harmony and how your workplace can register to get involved.