Daydreaming about your next escape? Could it be a romp through the lush rolling hills and cosy villages of Adelaide's food and wine region, stopping in at some of Australia's most coveted restaurants and wineries?
And don't be concerned about how you'll get there, where you'll stay and just how on earth you'll know where to start exploring this breathtaking culinary corner of our country, because this will all be covered!
Simply by taking part in this year's A Taste of Harmony, and celebrating the many benefits of a culturally diverse workforce with your team, you could be on your way to foodie heaven!
A Taste of Harmony is offering all 2018 A Taste of Harmony participants the chance to win a 3-day trip for two people to this very special pocket of South Australia including a personal itinerary prepared just for you by top chef and A Taste of Harmony Ambassador, Christine Manfield.
In Adelaide City you'll discover fantastic food and wine is a way of life with fabulous cafés and gourmet pubs dotted throughout the many restaurant precincts. Further afield you'll experience the gastronomic seduction and rustic charm of regions such as McLaren Vale, Adelaide Hills, Barossa Valley and Clare Valley.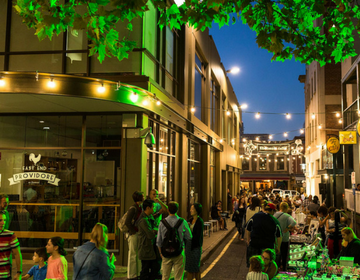 Home to some of the hottest culinary creatives in the business you'll have the option to visit some amazing restaurants and markets. In Adelaide, you can visit the bustling central market for coffee, pastries and smelly cheese tasting (the Sunday food market is also a must-visit with a plethora of food stalls to choose from … the locals flock here for a weekly catch up!).
Lunch could be authentic family-style Afghani home cooking at Parwana Afghan Kitchen while a great place for dinner is The Pot by Emma McCaskill, a neighbourhood restaurant in Hyde Park, where Emma and her team spend their time sourcing the best ingredients and honing their skills to make utterly delicious food.
In the Barossa Valley you may visit Ferment Asian, the region's best restaurant in Tanunda and after lunch why not book a wine tasting at either Henschke or Torbrek? In McLaren Vale, be sure to visit Willunga Farmers Market, South Australia's first ever farmers market.
In the Adelaide Hills, you can kick back at Lost in a Forest, and order one of their terrific wood fired pizzas and any of the on-trend wines or spirits from their cleverly crafted list.
In addition to an itinerary that is tailored according to the prize winner's personal interests and dietary preferences, this amazing prize includes airfares to Adelaide, two nights' accommodation, car hire, PLUS $1,000 spending money so you can truly enjoy all the spoils this magnificent region has to offer.
For your chance to win, there's a couple of small things you'll need to do.
First, you need to register your A Taste of Harmony event online, and this is super easy: just click here.
Second, at your event, you need to pull out your selfie stick, take a snap of your team and email us the pic along with a cool caption by Friday, 13 April 2018 (did you know the number 13 is considered lucky in Italy?).
We'll choose the best photo and with any luck (especially if you're Italian) it could be yours!
Pssst: You can view competition terms and conditions here or get in touch with any questions at contact@tasteofharmony.org.au.
Image source: South Australian Tourism Commission (SATC) the Government of South Australia, Adelaide Hills Wineries, Cellar Doors Around Every Corner, Sourced on 5 March, 2018
http://southaustralia.com/places-to-go/adelaide-hills/cellar-doors)