21st March 2020
West Coast Aikido\'s Taste of Harmony
21st March 2020
West Coast Aikido\'s Taste of Harmony
Location West Coast Aikido Martial Arts Academy
|
Start 5:00 pm
We are taking part in A Taste of Harmony to recognise and celebrate the cultural diversity in our Academy. Every family will bring a dish that represents their culture, or a culture they have a strong affinity with. We'll get together for a delicious meal and have the chance to share stories. Please RSVP using the button below.
- John Hewell
About A Taste of Harmony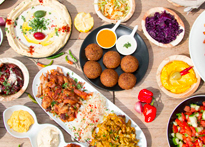 A Taste of Harmony is a delicious way to celebrate workplace cultural diversity. At the event, team members are encouraged to share stories of their cultural background. What better way to foster a harmonious workplace than by sharing a little about yourself over a new and interesting meal.
Read more >