The Social Outfit work with a range of members of Sydney's refugee and migrant communities. The 2017 Digital Print Project, in partnership with the Community Migrant Resource Centre's (CMRD's) Youth Transition Support Program, engaged young people in Merrylands and surrounding suburbs. Participants developed print designs that now adorn garments, accessories, homewares, and stationery as part of Kaleido-cloth, The Social Outfit's Spring/Summer 2018 collection.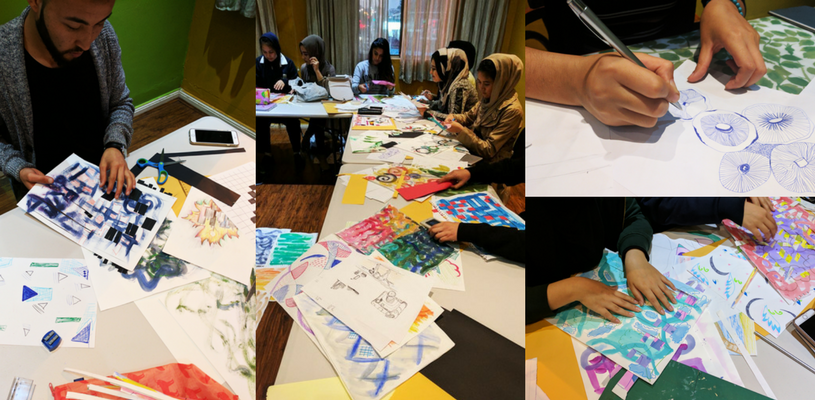 Pictures from the Merrylands project, courtesy of The Social Project.
Over a period of six weeks, participants created folios of abstract self-portraits in a range of mediums including painting, drawing and paper weaving. Self-portraiture created an opportunity for discussion of identity – something particularly important for young people, but more so for those whose lifestyle and culture are altered by the experience of uprooting their lives and moving to a new country.
Jessica Lee Parker, who facilitated the project, said the design process provided a creative outlet for participants. "It is such a joy working with young people, and getting to share in their unique enthusiasm and perspectives on the creative process. Making multiple smaller works each week meant participants could experiment with new techniques and build confidence in their own skills, all the while catching up on the week and building friendships too."
Not unlike the sharing of stories through food, the expression of stories from varied cultures was expressed in this artistic outlet. At the close of the program, pieces from each participant's work came together into the collaborative Merrylands print, with original collaged artworks also on display at The Social Outfit.
The Social Outfit Loves Community from The Social Outfit on Vimeo.
Many of the participants are now looking to become more involved in future projects with The Social Outfit. "The best thing about this project was designing my own work, in my own style," a participant said. "[I enjoyed] being friendly with classmates – helping each other and sharing ideas."
You can support The Social Outfit by shopping their range here.