The Social Outfit is a Sydney-based ethical trading social enterprise, focusing on ethical fashion as a means of creating employment and training opportunities for women and young people from the new migrant and refugee community.
Inspired by her time at award-winning social enterprise The Social Studio in Melbourne, Jackie Ruddock took the concept north and founded The Social Outfit in Newtown, Sydney in 2014.
Kaleido-cloth from The Social Outfit on Vimeo.
Since its establishment, The Social Outfit has worked with more than 300 people from the refugee and migrant community, representing over 30 different countries.
The Social Outfit has provided employment to 14 people, which for 11 of them was their first paid job in Australia. A further 13 have been assisted in finding jobs and 8 sewing students have gone off to begin their own micro-enterprises.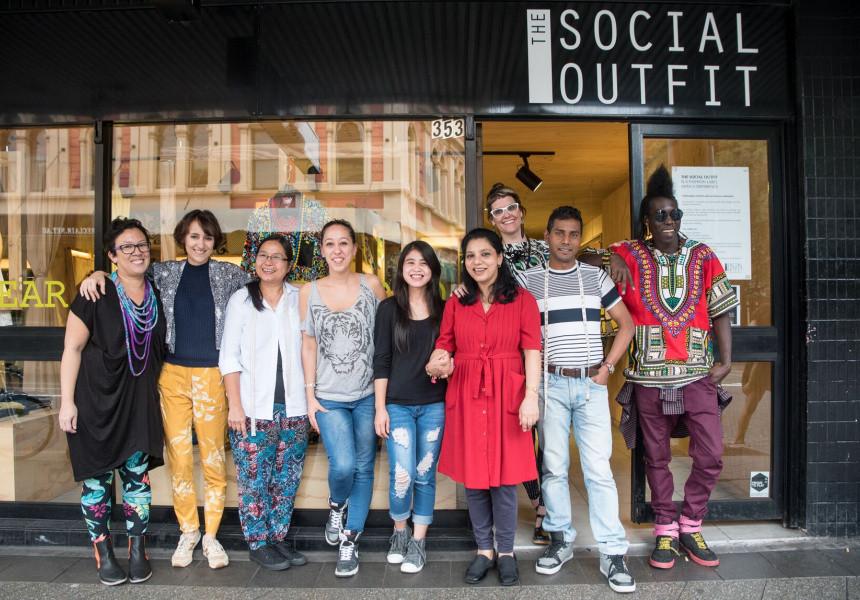 Photo by Kimberley Low for Broadsheet. Supplied by The Social Outfit.
Fashion, like most creative industries, thrives on collaboration. "We see our diversity of experiences and cultures as an incredible strength at The Social Outfit. Learning from one another is a key value of ours," CEO Jackie Ruddock said.
Australian designers including Carla Zampatti (also The Social Outfit's ambassador), Ginger & Smart and Alice McCall provide fabric donations and trims.
In addition to this creative support and mentorship, it's the diversity of employees and participants that gives the label its creative energy.
"On a daily basis, we come together and share our own strengths and passions for the collective benefit of everyone involved. 
"It's incredibly motivating – and we're keen to continue growing our creative and skills-impact with the community into the future." Ruddock said.
You can see the variety of cultures and personalities in the bright and bold prints – a recent example of which were the Merrylands 2017 Digital Print Project.
View the collection and learn more about The Social Outfit here.