Photo by Teagan Glenane
Arriving in Australia as a young migrant, imagine facing the challenge of seeking employment with cultural and language barriers, and not having local experience.
In 2010, Scarf was created to connect young people seeking protection and those from refugee and migrant backgrounds facing barriers to employment with hospitality training.
Those aged between 18-28 are brought together with passionate hospitality professionals who volunteer as mentors, sharing their knowledge and networks.
Seasonal programs run for 10 weeks in a partner restaurant, where trainees are paid to train, and learn front of house and bar skills. By equipping them with local experience and confidence, these culturally diverse young people are then able to confidently seek employment in the Australian hospitality industry.
"Scarf's approach to training is simple: real knowledge and real experience, gets real jobs."
Scarf graduate Eyayaw came to Australia from Ethiopia two years ago and struggled to find work, despite having years of experience working in a hotel in his hometown of Lalibela.
"I thought things would be easy and I would find myself a job in hospitality, but unfortunately it wasn't. I left my resume everywhere and people always promised to call me back, but never did."
Eyayaw came into contact with Scarf when he saw a flyer at Melbourne Polytechnic outlining the training.
"My English wasn't very good, but they could tell I was very passionate and excited to work."
Eyayaw undertook training and work experience during Scarf's 2016 Autumn season at Rupert on Rupert in Collingwood, where he learnt everything from cocktail making to serving wine.
"It was hard understanding the culture in the beginning. It was a real shock. This is where Scarf really helped me. My mentors were very friendly. It was very valuable watching them interact with a customer and engage in small talk. I found this really helpful and important – making the customer feel welcomed."
For Eyayaw, a cross-cultural love of food and hospitality allowed him to engage in a cultural exchange with mentors, while better understanding Australian culture.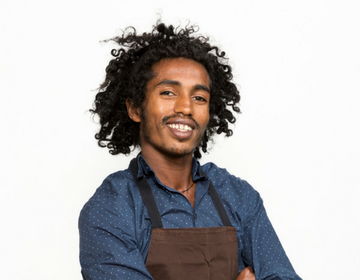 "The mentors show you everything and are always happy to help – even down to the smallest details like how a wine bottle should be held when serving diners."
Eyayaw gained employment at Garden State Hotel in Melbourne, and later at Top Paddock in Richmond, where he currently works across food runner, floor and bar back positions. He is grateful to Scarf for helping him make his experience in Ethiopia a strength, when combined with local hospitality knowledge.
"If I didn't have my Scarf training, I wouldn't have a job."
Fellow graduate Meray came into contact with Scarf through her social worker at Spectrum. Arriving in Australia from Iraq, she found it difficult to find work.
"What encouraged me to apply for Scarf training was the fact they focus on providing work experience to refugees in Australia. Coming from Iraq, I faced some difficulties finding a job, especially with no work experience."
Meray enjoyed wine, beer and coffee training in different venues across Melbourne and has learnt a lot from her mentors.
"I've learnt everything about customer service, but the most important thing I keep remembering it is that when I'm working, I don't know how a customer feels, so I need to make sure they are always served with a smile.
My greatest achievement is getting a job at Vertue Coffee Roasters, the café I did my coffee training with during the Scarf season."
Meray's greatest challenge was her family not accepting her work in a café.
"My family was not accepting of me working in a café or restaurant, as this wasn't customary for women back in Iraq. Since visiting me in my workplace, they are very happy and supportive of me."
Since its inception, 174 young people have graduated from Scarf programs, with 70% of those graduates finding meaningful employment within 6 months of finishing the program, like Eyayaw and Meray.
Each season, Scarf hold a weekly dinner for 80-90 diners over a ten week period, with the partner restaurant's chef designing the menu and Scarf trainees running the front-of-house, with the support of their mentors.
Scarf's impact on the lives of those people seeking protection and those from refugee and migrant backgrounds is monumental and demonstrates the power cultural diversity can have on business, particularly hospitality.
Click here to learn more about A Taste of Harmony and how your workplace can register to get involved.