We spoke with Victor to better understand the intersection of cultural diversity and leadership, and the role that food can play. Familiar in interview, Victor sits relaxed and engaged, coffee in hand at a corner café in South Melbourne.
Victor's experience is extensive, formerly a Victorian Member of Parliament and later Victorian Commissioner to the Americas, he was also a Senior Advisor during the Australian Presidency of the G20. He's also practised as a barrister and is now an author, keynote speaker, board member and moderates organisational strategy retreats and roundtables.
Author of The Case for Optimism, Victor Perton has been busy building an optimism revolution. He proudly describes his overarching goal to interview one million people for their thoughts on optimism – creating a collective volume of wisdom. This stemmed from his equally ambitious Australian Leadership project which seeks to celebrate, promote and improve Australian leadership. To achieve this, he's interviewed CEOs, board members, entrepreneurs, highly-regarded Australian officials through to school students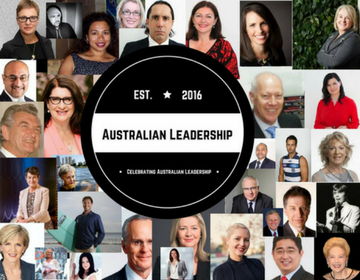 Discussing his Latvian and Lithuanian heritage, as a first generation Australian, Victor speaks with affection about his family's experience migrating to Australia as stateless refugees.
He recounts stories of the hard work they undertook and the welcome and friendship they found with their new countrymen. He recounted with great humour when his grandmother was asked to 'bring a plate' to share at church a lunch and she arrived with a decorative plate in hand, having travelled into town specially to purchase it.
"Food is a conversation starter!" Victor said with excitement. He then recounted with great passion his time as Victorian Commissioner to the Americas where iconic chefs such as Curtis Stone and Guy Grossi would cook for American guests as part of G'Day USA and Victorian export promotions. "We have the world's best ingredients in Australia, and thanks to our diverse society, we cook with authenticity. This is one of the few countries where you get authentic cooking of the best food in the world in whatever style. Just take Guy Grossi's Italian, for example."
The passion in Victor's voice is infectious as his mind turns from the diversity of Australian food to trade. "Australian companies have a competitive advantage thanks to the diversity of their people," he said. "Australia is number one on the United Nations Development Index, number one on the OECD Good Life Index and The Economist ranks Melbourne as the most multicultural and cosmopolitan city for seven consecutive years."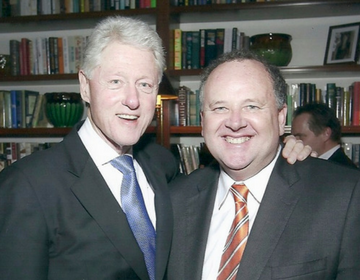 Reflecting upon the role of leadership in celebrating cultural diversity, did Victor think Australian leaders were advancing matters of diversity and inclusion?
"Everyone is a  leader and follower.  The leader looks like the person in your mirror. In my opinion, with some of the highest rates of migration in the world, Australia's success as one of the most peaceful, prosperous and developed countries in the world is a sign that we are doing better than most in providing opportunity for our diverse community," he said.
Reflecting upon an interview he conducted with Monash University Chancellor Simon McKeon, Victor recalled Simon remarking that "… we could use the challenge of diversity in our culture, compared to other countries, to develop and equip our leaders to be particularly relevant in a globalising and increasingly multicultural world."
Victor continued, recounting that Canadian-raised Sue Matthews, CEO of the Royal Women's Hospital had said to him, "All people want respect…respect for their values and needs. As a community with huge diversity, this is particularly important in Australia. It's not about forcing anyone's values onto another, but rather respecting the differences we have."
Victor paused, considering what he'd just shared. "A Taste of Harmony is an optimistic look at society in which we live," he said. "It happens already. This makes me reflect upon Iftar dinners that Muslim friends host. Food is a vehicle to share culture and understanding. To connect people."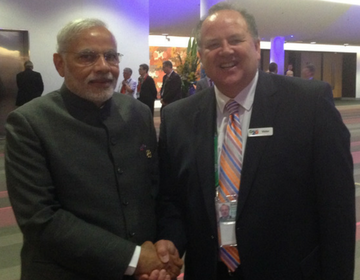 Having spoken at many universities and hundreds of schools and community groups, Victor sees the continual multicultural growth in our country.
"I gave a speech at the Melbourne University economics faculty, as diverse a group you would see. Kids born in China, kids born in Singapore, Africa. You actually look at the generations coming through, you look at medical school now, it's a thriving multicultural environment. Law school the same, so as all these people come together."
A Taste of Harmony in Victor's eyes not only allows for a celebration of cultural diversity, but also the ability to network, getting to know your colleagues better both personally and professionally. Building relationships that in turn can help you advance in your career, particularly for those university graduates looking to make their mark.
"I say to people – it's personal relationships. Unless the managers or owners of an organisation know you, why are they going to consider you for promotion? So, for me, A Taste of Harmony, bringing people together, eating together, is teaching people to network supporting collaboration and opportunity. The more we can do that the better!"
"I imagine there's very few cultures who don't value the gathering of people to share a meal!"
You can hold A Taste of Harmony at your workplace, and bring food, cultural understanding and opportunity to your team by registering today.