The scale of embedding genuine inclusion in an organisation's culture can be hard to grapple with – where do you start, and how do you drive the change? Maurice Blackburn Lawyers provides a strong example of success: they are committed to a range of programs and tools that are practical and making a difference. Taken together, they have not only created an environment where diversity is valued, but one that is culturally competent.
Senior Associate Azmeena Hussain is an awarded workplace injury lawyer with the firm, where it's understood that, diversity is a key part of service delivery because a service that's reflective of the country's increasingly diverse population makes it more accessible to a wider base of clients. That aligns well with Azmeena's drive to ensure Australia's most marginalised groups have access to justice.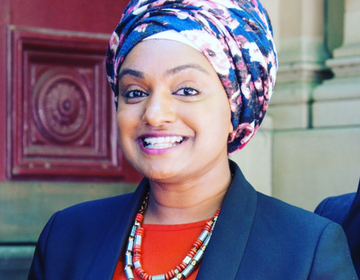 A first generation Australian of Sri Lankan descent, she has an impressive resume of leadership in the multicultural space.
At Maurice Blackburn, Azmeena helps drive a diverse program of inclusion under the leadership of Chairman Steve Walsh.
Maurice Blackburn established a Cultural Diversity Group in 2011 to develop a culturally competent workplace characterised by four main components: awareness, knowledge, skills and actions.
"We don't need to accommodate, we need to embrace difference," says Azmeena. "As a firm, we're beyond the 'why', it's about 'how to do it better."
A Cultural Diversity Tool Kit and a Religious and Spiritual Diversity Guide have been developed in partnership with the Australian Multicultural Foundation to provide knowledge to support the cultural competency of teams. They practically address questions like how people greet each other, or how to express condolences or congratulations. These two resources are frequently sought after by other organisations seeking to increase their cultural competency.
"Fostering a culturally inclusive environment at Maurice Blackburn builds our capacity to meet the needs of clients of culturally and linguistically diverse backgrounds," says Azmeena.
"
"When we speak to one another, we see that we all want the same thing – happiness, security and a sense of belonging."
Everyone has a role in creating a diverse and inclusive workplace, but starting can be difficult. According to Azmeena, getting the conversation started is a vital part of building cultural competence.
A Taste of Harmony is a fantastic opportunity to foster such conversation. It provides a fun, friendly environment where everyone can break bread together and feel comfortable to discuss their culture.
"You create awareness of the topic, which from there becomes the norm."
So what does A Taste of Harmony look like at such a progressive organisation?
"We take A Taste of Harmony very seriously here!" Azmeena says.
"For us it's the starting point. This is an important opportunity to make cultural diversity and inclusion an agenda item for an organisation – and to then engage in meaningful activity around the year."
The Cultural Diversity Group play an active role in A Taste of Harmony and create annually a Harmony Recipe Book. This is filled with diverse recipes and accompanying stories from team members of all business areas – from lawyers, to administrators and IT team members, and from all their offices across Australia.
At their A Taste of Harmony, alongside sharing the recipe book, each office commits to engaging a local CALD (Cultural and Linguistically Diverse) community. Offices also have the opportunity to nominate colleagues for a Cultural Diversity Ambassador Award, to recognise someone they believe lives and breathes cultural diversity. Announced at their A Taste of Harmony event, this is often a great opportunity to thank bilingual team members who assist with translation.
Azmeena is working towards a future where inclusion is inherent. "My aim is to get rid of our cultural diversity group," she says. "But the one thing that can stick around is A Taste of Harmony. Everyone loves good food!"
You can make cultural diversity and inclusion an agenda item at your organisation by holding A Taste of Harmony.
REGISTER NOW >